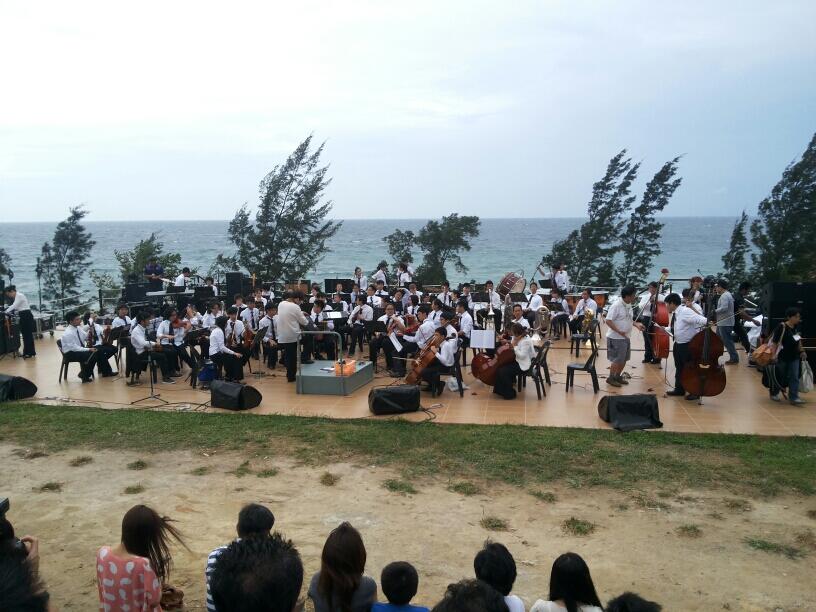 For some intrepid music lovers Tanjung Simpang Mengayau at the Tip of Borneo was not too far to go to attend the Sunset Music Fest held this year on the 28th and 29th of June. Perhaps it was the panoramic view at the 'Tip' that offered an added attraction despite the long journey.
The breathtaking beauty of Tanjung Simpang Mengayau or the Tip of Borneo to the north of Kudat has become a tourism destination in its own right, and so much more alluring with music.
The star attraction of the Sunset Music Festival is undoubtedly the Jesselton Philharmonic Orchestra (see pic above) that pioneered the musical excursion to the Tip of Borneo a decade ago. There have been no fewer than six performances there ever since.
This year's event featured a bevy of talents, some numbered among the 60 instrumentalists of the Jesselton Philharmonic Orchestra led by conductor, Yap Ling. Another notable on Malaysia's music scene who sang at the Festival was well-known Malaysian singer and songwriter, Atilia Haron from Kuala Lumpur.
Addressing the audience after her performance, Atilia described the experience of singing at the Tip of Borneo as 'magical'. She said she hoped to be invited again to perform next year.
Aimed at giving local talents the launch-pad they need to succeed, the SMF 2013 did just that for 'Vokal Bukan Sekadar Rupa' reality show runner-up, Marlleynney Fane Paul and Kadazandusun singer, Mohd Rifanzi Ruji, fondly known as Fanzi.
Hailing from the small town of Tamparuli is a quartet of sisters who call themselves the JADEsisters. This pop band got the crowd to sing along merrily despite the drizzle.
.
.